Women's sizes

| Size ukr. | Size | Bust | Waist | Hips |
| --- | --- | --- | --- | --- |
| 42-44 | XS-S | 84-88 cm. | 62-66 cm. | 89-93 cm. |
| 44-46 | S-M | 88-99 cm. | 66-78 cm. | 93-104 cm. |
| 46-48 | M-L | 100-105 cm. | 78-82 cm. | 104-110 cm. |
| 50-52 | L-XL | 105-110 cm. | 82-87 cm. | 110-115 cm. |
| 52 | XXL | 110-115 cm. | 87-92 cm. | 115-120 cm. |
Men's sizes

| Size ukr. | Size | Bust | Width under armhole | Back length |
| --- | --- | --- | --- | --- |
| 44-46 | S | 88 cm. | 47,5 cm. | 70 cm. |
| 46-48 | M | 92 cm. | 48,5 cm. | 70 cm. |
| 48-50 | L | 96 cm. | 51,5 cm. | 70 cm. |
| 50-52 | XL | 100 cm. | 53 cm. | 75 cm. |
| 52-54 | XXL | 104 cm. | 54,5 cm. | 75 cm. |
How to take your measurements
If you want to order clothes in online store, many buyers face difficulty in choosing the proper size. The most optimal solution of this issue is the removal of measures and their subsequent comparison with the size of the table.
So how do you take your measurements correct?
In order to most accurately determine the necessary size of the product, and for us, in turn, - to make the right cut, you will need to take the following measurements: chest, waist circumference, hip girth, arm circumference, the circumference of the wrist, arm length from armpit to wrists and arms length from the neck to the wrist. Let us consider each of these parameters.
Bust - take measurements according to the most protruding points of breast, passing through the rear of the shoulder blade. When take these measurements are not worth too much to stretch or loosen centimeter, it should fit, but without tightening, enfold your chest.
Waist - take measurements by the narrowest point on the body tightly wrapped around the waist centimeter, but not pulling it.
The girth of the hips - is measured at the most convex point of the buttocks. If you have "the effect of riding breeches", it is necessary to duplicate the taken of measures by measuring the amount just below the buttocks on the protruding lines "breeches". From taking measurements taken bigger.
Girth hands - take your measurements horizontally at the wide upper arm.
Girth wrist - take your measurements horizontally on the wrist lines, in the place where is cuff.
Arm's length from the armpit to the wrist - measured vertically from the armpit to the wrist on the inside of the hand. When removing these measurements arm should be straightened along the trunk.
The length of the arms from the neck to the wrist - measures must be taken from the base of the neck to the wrist on the outside of the hand. In this case the arm should be half-bent position.
Additionally, you can measure the length of the desired product. You need to measure from the proposed location of the neck down the spine, adhering to the midline of the back.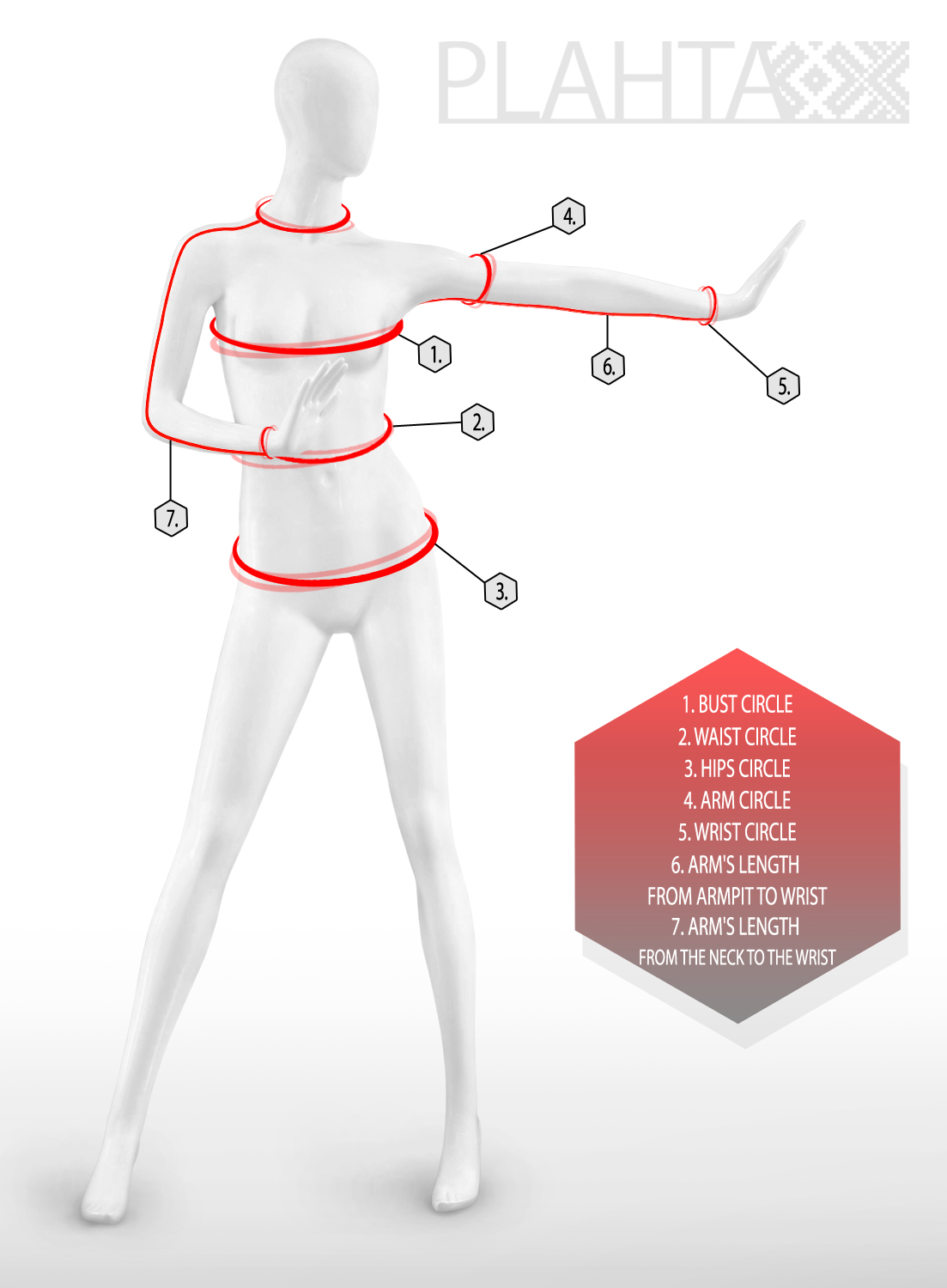 When you take your measures it is important to stand up straight and without tension, without stooping or bending the legs at the knee. It is not necessary to pull the stomach or gain much air into the lungs, thereby increasing the volume of the thorax. Before the taken measures, we also recommend to wear underwear, you are going to wear for the desired product as a bra can add volume and tights - drag away.
In case of difficulties or questions regarding the removal of measures, or comparing them with the size of the table, you can always seek the advice of our manager over the phone, online chat or correspondence by e-mail mode.